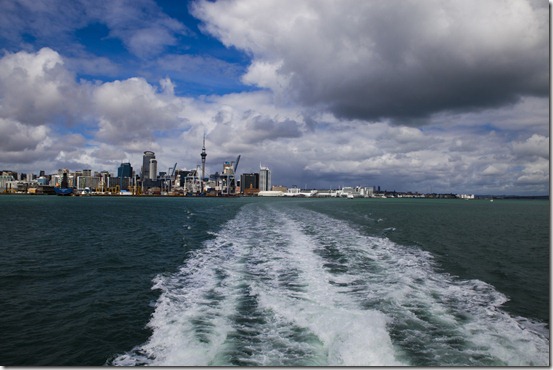 We decided to get out of the city for a while and take a ferry to Devonport, a seaside town across the harbor from Auckland, and then further on to an island named Waiheke, about a 40 minute ferry ride away.
Devonport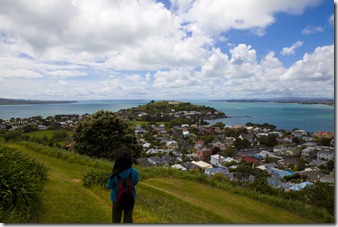 Devonport has a nice little main strip of stores, mainly restaurants (including a number of fish and chip placees) and boutiques.  This leads on to Mount Victoria, a large hill that gives 360 degree views of the island as well as Auckland.  It's a beautiful spot to sit and enjoy the peacefulness of the island.  Unfortunately, we didn't have that kind of time because we had to catch our ferry onward, so after quickly enjoying the vistas, it was back to the port to grab some quick fish & chips so we could fuel up for our ferry ride to Waiheke island.
Waiheke
After arriving, we manged to barely catch the last bus leaving after the ferry thanks to the intervention of a large New Zealand woman.  Lord knows I wouldn't want to mess with her, and apparently the bus driver agreed as he nicely stopped for us as he was about to go.  We headed to Onetangi beach for a little R&R in the sun.  The rest of New Zealand had been quite cool, but we discovered this was because they kept all of the heat at the beach.  It was nice to finally get warm for a change.
Dinner at Mudbrick
Waiheke is famous for wine, and there are about 17 wineries operating on the island.  We figured that since we had made the trip out there, we should sample some of this fine beverage over dinner.  Having read good reviews, we went out to Mudbrick, one of the famous wineries in the area for a fine meal.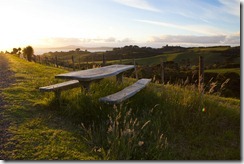 The 20 minute walk out from Oneroa, Waiheke's main town, is stunning, with beautiful views of the rolling hills and the other vineyards around.  It's easy to see why someone would want to settle down in that area. The chateau at Mudbrick overlooks the bay and further out to Auckland city, and in the summer, the sun sets right behind the city, giving absolutely stunning sights as the whole world turns beautiful colors of orange.
The restaurant was relatively empty when we arrived, meaning we could get a seat right in front of the windows looking out on the valley and bay below.  Our waiter was a Frenchman who seems to have spent the better part of the past few years doing long term travel as he seemed to have suggestions on what to do and where to go for just about every place we were thinking of going.  This is the type of thing that really makes travelling enjoyable as you never know who you will meet and where.
As for the food, it was fantastic, with traditional French sensibilities and a bit of Asian fusion mixed in to keep it interesting.  I had the lamb and Naoko had the duck, and both were scrumptrulescent.  I think the pictures speak for themselves:
We were also able to work off some of the calories as we ran for our bus after the meal, which had gone on a little longer than we expected.  And with that jog, our time on the island was over, but was well worth it.