In Sydney, we decided to try something new with our accomodation.  Instead of going the normal route of either cheap hotel or backpacker's lodge / hostel, we stumbled upon a service known as AirBnB.  The service allows people with an extra room (or house/apartment/bungalow/RV) rent out that accomodation to travelers looking for a place to stay.  This means that renters get money for a room they already have, and travelers get a (generally) nicer room than they would otherwise, as well as being able to benefit from the information and experience of a resident of the area.
AirBnB has really done a great job setting up their site so it's easy to find a place to stay in the location you're looking for, at the right price point.  Accomodation can take the form of either a shared room, private room (the most common), or an entire aparment/house, and there is a list of amenities for easy reference as to what you get with the room.  The calendar shows exactly when the room is available, and there are even house rules so you know what your host expects.
AirBnB serves as an intermediate, so when you find the right place, you contact the host, through AirBnB, in order to confirm price and availability, along with settling any other issues you might have.  After that, the booking takes place through AirBnB, who takes a small cut, meaning that you don't have to worry about paying the host directly and you can use all of the modern conveniences, such as credit cards, etc.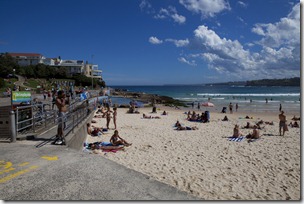 Our personal experience was fantastic.  We stayed with our host, Pam, in a two bedroom flat in the highly desirable suburb of Bondi.  The flat was located a 15 minute walk down the road from the famous Bondi beach, where you can enjoy the surf, or, like Naoko did, the hard bodies on the sand.  The road on the way was lined with shops, including The One That Got Away, where we had the best fish & chips you've ever had in your life.
But the real attraction of our stay was our host herself.  Pam was an exceptionally kind, and welcoming host.  She was always there to offer friendly advice and tips on what to see and where to go, and at the same time, still respected our privacy and our alone time, so that we had the perfect balance.  We had food for breakfast, and she even made us up some mango ice cream with some freshly cut up mango to go with it. We would stay up at night talking and laughing, and it really helped defined our experience in Sydney.  I'm sure this is not something to expect with every host, but it certainly helped convince us of the potential of staying locally.
If you're looking for a new way to stay, we highly recommend AirBnB!