After returning to Puerto Princesa from El Nido, we needed to find a place to stay and while the hotel we had stayed at before was pleasant, it was on the expensive side.  We followed one of our fellow El Nido travelers to their guest house, but that happened to be full.  However, the owner's cousin happened to have another guest house just down the road.  Now this sort of thing often happens and you can end up at an expensive place or a death trap.  Still, we liked the cut of this guy's jib so we went to check it out and were delightfully surprised.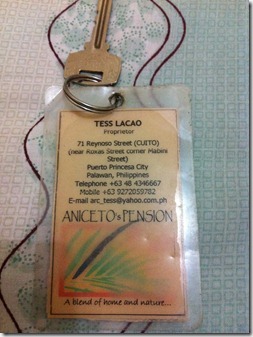 Aniceto's Pension, located just a little off the main road, provided clean, spacious rooms complete with a private bathroom.  Our room did not have A/C, but they do have rooms with that.  We paid around 600 pesos, which was significantly less than the 1200 we had paid previously.  Plus Aniceto's has a great rooftop balcony which looks out over the water.  It's a fantastic place to enjoy some morning grub or an evening beer, whatever your pleasure may be.  It also has wifi, which worked decently in the rooms, but perfectly in the common areas.
We would highly recommend the place if you need somewhere to crash in Puerto Princesa.  It's not a luxury hotel, but it gets the job done well for the right price.  Thanks Aniceto's!