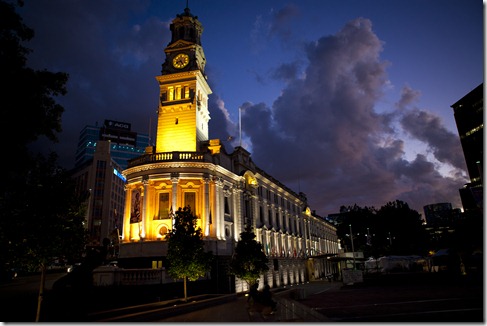 A Positive Crisis
Auckland seems like a city going through a mid-life crisis, but in a good way.  It is ditching its old industrial spouse and is seeking to attract the young and hip.  It has a rich history and has long been a critical part of NZ infrastructure with it's twin ports, but years of suburban sprawl had left the downtown area depleted and soul-less.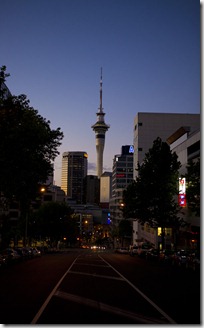 For the past several years, there has been a concerted effort to revitalize the downtown area, and, in large part, this has been quite successful.  Now, Queen street is abuzz with students visiting one of the many hip bars and clubs until late at night.  The industrial port area has also been bought back by the city and has now been turned into an area full of chic bars, clubs, and restaurants and can be fully strolled by pedestrians looking for a little coastal scenery.
In terms of getting around, New Zealand provides. There is a free bus service that runs up and down the main drag, making it easy as pie for tourists and drunk locals alike.  There is also an easy to use Eco Bus service (Link Bus) if you want to go somewhat further afield.  Additionally, there are several car rental companies that offer rates as low as NZ$15 per day if you rent for a week or more.  The only negative about walking around Auckland is the many hills, as Auckland is essentially built on an old volcanic field.  Of course, the downside to every hill is that there's an upside, but the upside to every hill is that there's a downside.
There are an array of beautiful commercial buildings, all done up with a glass curtain wall in wonderful examples of recent commercial architecture.  All of these buildings sparkle in the beautiful New Zealand sun, and it really gives a sense of modernity when you are strolling about downtown.
Tying the skyline together is Sky Tower, which is the tallest building in the Southern Hemisphere and looks a bit like the Space Needle in Seattle if it were a larger bore needle.   Of course, as far as I know, you can't go bungee jumping from the top of the space needle.  With New Zealand being the birthplace of bungee jumping, they take pride in doing it just about anywhere they can.  Sky Tower is also connected to Sky City, which contains a casino, just in case you think that bungee jumping isn't enough of a gamble.
So here's to Auckland, a big city that feels little, or a little city that wants to be big.  It has a nice, friendly atmosphere and is a pleasure to get around (aside from the constant hills).  Looking forward to knowing you better.