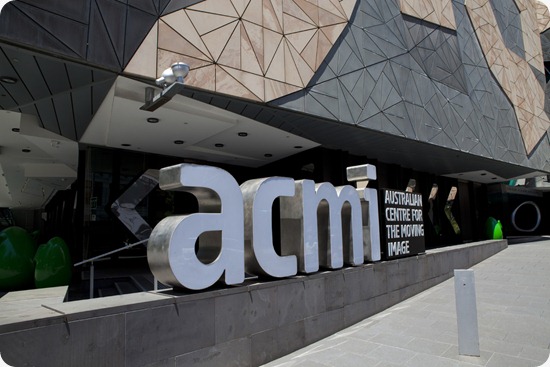 Nestled right into Federation Square in downtown Melbourne is the Australian Centre for the Moving Image. This museum is cool!  In fact, the whole of Federation Square is pretty cool, featuring some impressive modern architecture that is a joy just to look at.  There are windows at odd angles, sharply slanting walls, and support beams that look like some kind of giant alien spider web.  It's a great place just to walk around, and there are several cafes on location so you can sit back and enjoy the atmosphere.
The museum itself is located in a large building that has space for several exhibition halls in addition to a theater used for special screenings.  The museum has both a permanent exhibit and also plays host to a number of visiting exhibits, some of which are accessible for free, and other that can be seen at a reasonable additional cost.  This makes is a great place for those on a tight budget who want to stretch their free dollar as well as those that have a little extra change in their pocket who want to dig further into what the museum has to offer.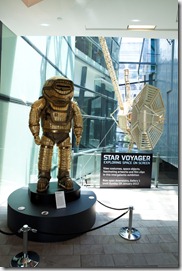 The main permanent exhibit (also free) is known as Screen Worlds and takes a look at how the moving image is used to create entirely new environments and realities for viewers.  The exhibit is extremely well done and features a large number of interactive items, which makes everything much more interesting and engaging.  This is important in any museum, but the nature of this museum lends itself to this extremely well.  The museum also does a great job of showing off just how broadly the moving image can be defined, so in addition to the staples of TV and film, there are a collection of video games ranging from pong to MarioKart on the Wii projected on a big screen.  Additionally, they include exhibits on YouTube videos, reflecting the world we currently find ourselves in where almost anyone can create video content.
One of the many entertaining displays was a room in which visitors can create their own timeslice videos similar to those iconic shots in the Matrix in which the camera moves around a character as the move in slowmo.  We spent a good 20 mintues just playing around in the room trying to come up with some action that would be worthy of Neo.  Apologies to the kids who were waiting, but the adults were having playtime.  You can see some of our masterpieces here, here, and here.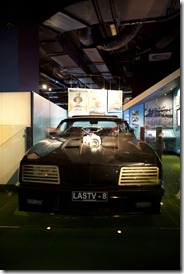 There is also a large section dedicated to Australia in film and TV.  This large collection of items seeks to show how Australia has contributed to film internationally whether through cast, crew, or beautiful locations.  Visitors can click on a large moving screen of film clips to be taken to a large map showing where in Australia it was filmed.  Another display lists a large collection of films that all have a connection to Australia, letting users click to find out more about both the film and the Australians involved.  Of course, I spent most of my time investigating Crocodile Dundee.  This is a great addition to the exhibit as you realize how much Australia has added to all of the films that you know and love.  They even have Mad Max's car!
The ACMI is really a fantastic place to spend the day, whether you go with kids or are just interested in film.  It works for all audiences and with all of the interactive features, it means you won't be bored.  Even the free, permanent exhibit is really enjoyable, so this should be on every backpacker's list.  You won't regret taking a good chunk of your day out to visit this excellent museum.