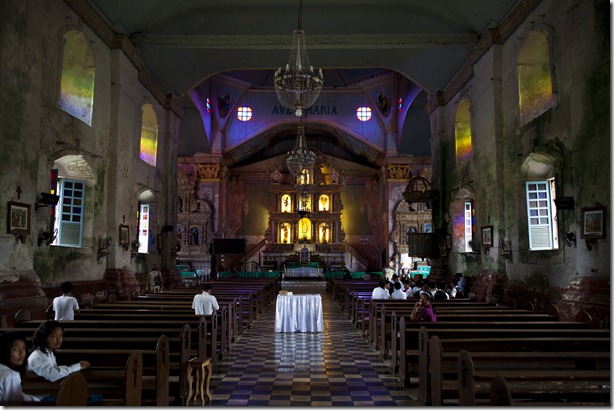 Baclayon Church is the oldest church on Bohol and the second oldest church in all of the Philippines. I won't claim that it looks new, but the old girl has been kept up remarkably well given that she's going on 300 years old right now. Not only that, but she's still the star of the show as the church is one of the stops on the standard (but worthwhile) one day tour of Bohol. There is a museum of the church at an additional charge, but exploring the church itself is free and is really enough.
The structure itself is massive and it really is impressive that they could build such large open areas out of stone almost 300 years ago. It really does speak to the ability of the Spanish to build no matter where they went. Of course, slave labor helps, but I'll take that up with the next conquistador I find. Either way, whoever did the work did an impressive job.
My favorite part of the church is the amazing use of color, both in the stained glass windows as well as in the sanctuary area. When light is streaming in, it really bathes the interior of the church with such amazing color and warmth. It does feel almost otherwordly even now, and I can only imagine the impression it would have had on people who had never seen something similar.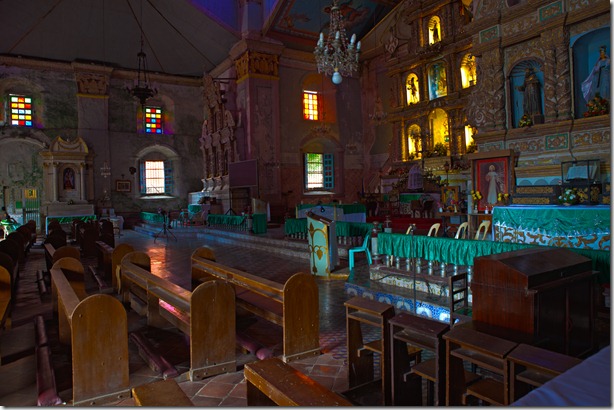 The church itself is still very much active and you will see both parishioners as well as school children attending mass and in prayer. It's great that such a phenomenal building can still be used in the way it was intended. Also, as a super cute bonus, there is an elementary school next door to remind you that no matter where you go, kids will be kids, playing and smiling.