Alona Beach and the waters near it are world famous for diving and snorkeling and it's not hard to see why.  The water is beautifully clear and there are copious reefs scattered about the area which offer places for fish to see and be seen.  This is why the beach itself is absolutely littered with dive shops offering anything from multiple day scuba excursions to mask and fin rentals so you can just wade out into the water on your own.  Whatever you want to do under the water, you can find it.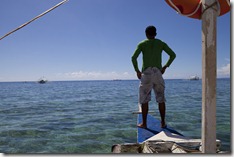 As neither of us are divers, we had to "settle" for snorkeling and the spot to snorkel in the area is at Balicasag island.  It is a 1.5 acre island that can be reached from the beach via a 45 minute boat ride.  This is where the treachery comes in and where you can be taken for a ride other than the one in the boat.  The bottom line is to make sure you know what you agree to pay and that it includes everything.
In our case, we had worked with the staff of our hotel in order to negotiate a price of 1500 pesos for "the boat and snorkeling" and an additional 200 pesos for "gear" rental for the two of us.  So we left the hotel in the morning with smiles on our faces as this was about 700 pesos cheaper than some other tours we had seen advertised.  One of the guys on the boat, let's call him Junior, even came to pick us up.  So we hopped on the boat with Junior and what we assume was his uncle – let's call him Grumps McGee.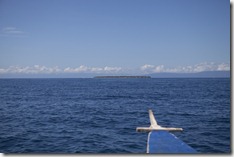 After spending a beautiful 45 minutes jetting across the water, we finally got to Balicasag island.  At this point, Grumps said that they had masks and snorkels and asked if we wanted fins as well.  He didn't mention additional cost (I know, I should have asked), so I gave a hearty "yes" because in my mind, snorkeling "gear" includes fins.  So Grumps slipped away for a couple minutes and comes back victoriously carrying flippers for me and shoes for Nao.    So far, so good, and he guides us to the smaller paddle boat that we will use to actually go out to the reef,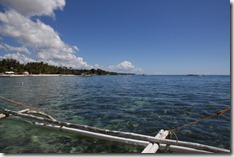 Now this is what we came for.  The reef was absolutely filled with life and you could almost get by just staying on the boat and sticking your head in the water – there were just that many fish.  One of the things that makes this a special spot is that the reef lies right near the a drop off into deeper water, which means you not only get the small reef fish swirling around, but you also have some larger fish wandering by creating a magical mix of fish.  Unfortunately we had no underwater camera so I cannot show you the wonders that we saw, but if you if you go down to a hardware store and find the most wildly named paints (like "Peacock passion" and "Tropical bird in a blender") and throw them directly in your eyeballs, you might have some idea of what we saw.
After almost 2 hours of snorkeling, we headed back in to Balicasag to switch to the main boat.  It was at this point that Grumps comes up to me with a small hand written note, on which he had written a lovely list of charges, including 300 pesos for the paddle boat, 300 pesos for 2 flippers, and 300 more pesos for the mask and snorkel.  At first, my naieve self thought we'd gotten lucky and that this 900 pesos included the main boat, but after confirming with Grumps that this was not the case, it was arguing time.  Just like Perry Mason, I objected.  I was as nice as possible, but I refused to pay any additional charges that I had not been told about.  Suffice it to say, Grumps was grumpy.  He spent thirty minutes being mad at me and wandering around the island muttering angrily to himself while Nao and I tried to judge whether or not we could swim back if we had to.
Luckily, Junior came in to play the role of peacekeeper and eventually agreed to the original price that we had discussed that morning and we headed off back to Alona Beach on a much quieter, significantly less smiley boat ride.  Arriving at the beach, we paid Junior as we were no longer on speaking terms with Grumps, and headed off for some much needed victory nachos and beer.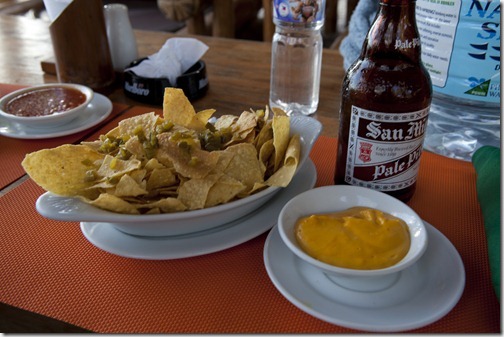 For all the shenanigans we encountered, I would be quick to recommend that anyone visiting Alona Beach go to Balicasag for some snorkeling.  Just let our experience be a lesson and make sure you know what is and is not included in whatever you agree to.  Happy swimming!