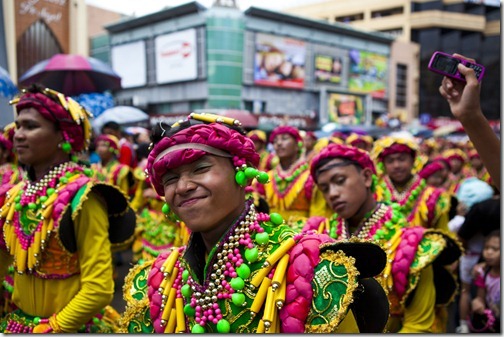 If you love the baby Jesus, or at least love a good party, then mark your calendar for the 3rd Sunday in January and head to Cebu in the Philippines for Sinulog.  This is when thousands of people flood the streets of Cebu City to honor the image of the Santo Nino (baby Jesus) in a combination parade and street festival that lasts from the morning well into the night, as Cebuanos party on.
The main feature in the daytime is the parade, which starts from various points in the city, but ultimately comes together at Osmena Circle, where all the different groups tour around the center.  This spot offers the best view of all of the festivities, which is why it is impressively crowded, though still recommended if you can get there early.  What you have in store is a seemingly endless parade of floats both normal and strange (not sure how Transformers and Star Wars link to the baby Jesus), groups dressed in impressive costumes, and moving drum groups.
One thing to note is that you need to be patient with this parade.  There are often stops and starts and the flow does not continue endlessly, so you may find yourself waiting a while in between groups.  Of course, the benefit of this is that it provides plenty of time to interact with the performers and see them engaged in some more common activities.  Personally, this is something I enjoy, so I saw it as a plus, but it might cause others to yawn.
Of course, where would this world be without corporate sponsorship?  Well, don't worry because Sinulog has plenty of it, but it's not necessarily presented in the way you would expect.  Instead of putting a small sticker on a float or even decorating the performers costumes a la Nascar, the sponsors actually make large floats into moving advertisements.  There's nothing like seeing a tropical oasis float roll by accompanied by beautifully costumed performs only to see a giant can of beans follow closely behind.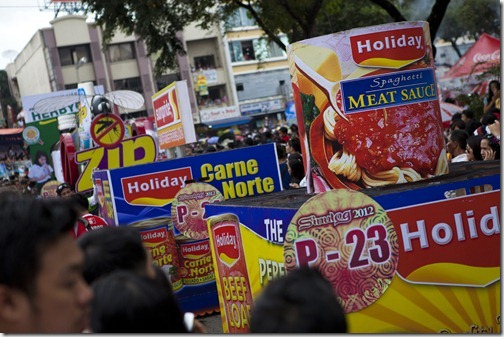 The parade, however, is only half of the story.  The rest of the party happens at road side stalls and in bars lining the streets as the people of Cebu pour out en masse continue the party into the wee hours.  The streets become flooded with people after the main parade ends and there are makeshift dance parties happening in parking lots and squares.  You can easily feel like you are being carried along in a sea of people and it is definitely not for those who hate crowds, but there is a great party atmosphere to be enjoyed.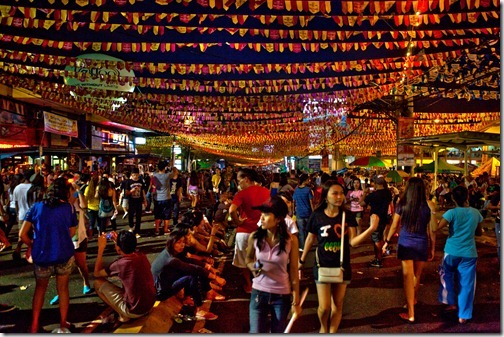 The night is capped off by fireworks displays that happen all over the city (we counted at least 4 distinct launch sites), which fill the whole area with a great energy and can be enjoyed no matter where you are in the city.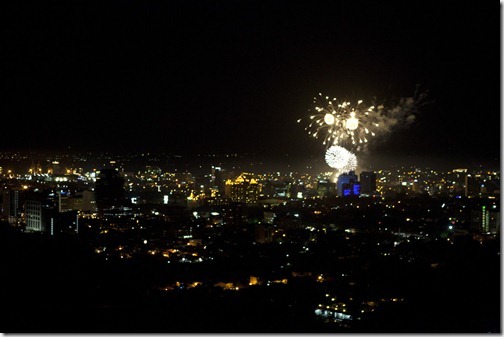 If you missed Sinulog 2012, don't worry, 2013 is just around the corner, and as this festival has been growing year after year, it promises to be even bigger and better.