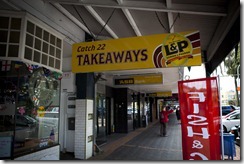 While on the plane to New Zealand, the lovely woman sitting next to us recommended that we go just across the bay from Auckland to a seaside town called Devonport, and indulge in the local favorit of fish and chips while sitting down near the water.  Who are we to disobey?
We went down to Catch 22, on the main strip just outside the port and decided to grab a little Tarakihi and chips while we waited for the ferry.
Unlike most fast food places, both fish and chips were made up after we ordered them so they were piping hot and juicy.  An altogether pleasant (if artery clogging) experience.