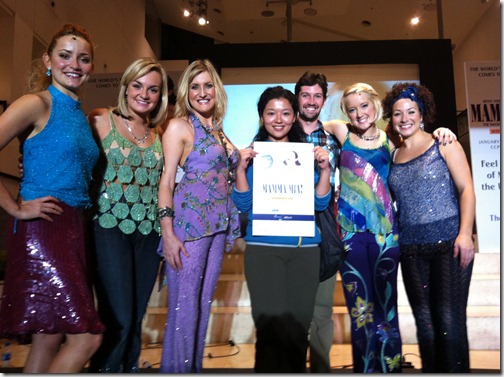 One of the highlights of Manila, for better or worse, is their world class shopping malls, so finding ourselves without anything to do for the day, we decided to walk around Green Belt mall (actually a collection of 5 malls all together).  As we wandered around, we happened to see that there was a special performance scheduled in the mall that day to promote the upcoming performance of Mamma Mia, so, looking at our wide open schedule, we decided to stay and watch the show.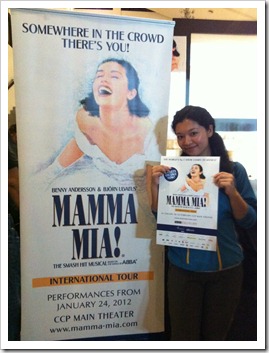 The schedule called for a Philippino accapella group to come on first, followed by a short medley of songs from Mamma Mia.  However, as part of the promotion, they were giving away tickets to the show to people who were picked and could correctly answer the trivia question about Mamma Mia.  When the MC said he would be picking the people who looked the most excited, I knew my years of making a fool out of myself as an English teacher would finally pay off.  I jumped up, threw my arms about, and generally acted like a mix of baboon on acid and Justin Beiber fan.  This presented me with the opportunity to win tickets if only I could find the answer to the incredibly difficult trivia question: What day does Mamma Mia begin in Manila?  I contemplated, took a deep breath, reached deep within my mind, and then looked at the 20 or so posters which were all around the area in order to spit out the right answer.
To raucus applause, I walked over to collect the tickets and we celebrated that night by changing our flights so that we could actually see the show.  I'd like to thank all of the people at the mall that made it possible as well as baboons on acid that taught me everything I know.
The show itself was fantastic!  We got to see the performance on opening night and the whole cast and crew made it a special night.  You could tell that a lot of work went into the preparation of everything from the revolving set to the sound levels to, obviously, the singing and choreography.  Though we did get a surprise when we found out that our tickets were, in fact, on opposite sides of the auditoreum, it didn't take away from our enjoyment.  The hall itself, though not on par with some of the top theaters, was nonetheless comfortable and provided a clear view of the stage, even towards the back, where our free seats were located.