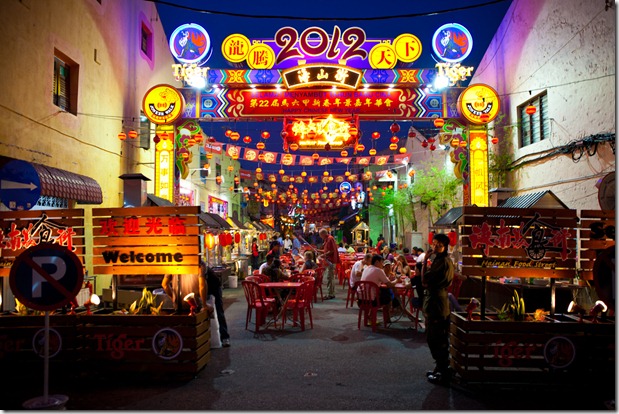 A common string running through a large part of Southeast Asia is the existence of that frenetic beauty known as the night market.  It's like entering a casino, where you might just happen upon that perfect souvenir, or the perfect pair of "Reybans" for $5, or you might just end up seeing 500 of the same Angry Birds T-shirt.  That being said, the market in Melaka was one of the better ones that we found in all of our journey through Asia.  It's a great mix of products, souvenirs, and food, with some good finds to be found.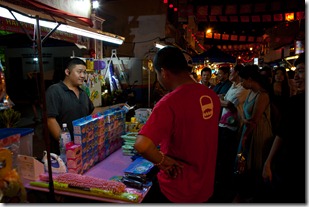 The market occurs every Friday, Saturday, and Sunday nights from about 6 o'clock until midnight on Jonker street and a couple of the connecting sidestreets, which make up the Chinatown area.  This weekend market is something to consider when planning a trip to Melaka, as it's far better to be there for at least one night while the market is going on.  Shops that are on the street during the daytime bring out their goods curbside and are joined by other merchants in an effort to entice you.   You might even see a life information taking place in which a man with a microphone shows passersby the wonders of the new super-duper-mega slice'n'dice pro, or whatever new product might be the craze at the time.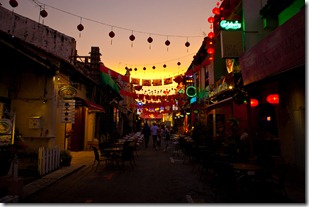 The street is filled with people selling items of all sorts.  Nao picked up two pairs of earings for a total of 3 Ringit (about 1 US$) and I got a hat for 14 Ringit.  We even bought a laser pointed for 5 ringit.  In fact, I had already agreed to 6 but the man selling dropped another ringit off anyways.  Now that's service.  There are, of course, the usual things like bucket-loads of T-shirts, clothes, bracelets, rings, iPhone covers, sunglasses, and watches.  However, there were also more unique items, such as old coins and bank notes, including one that was printed during the Japanese occupation of World War II.  There were also some cool pieces wire artwork, including an impressive Optimus Prime that I was quite tempted by, if only he could transform into another bag and carry himself.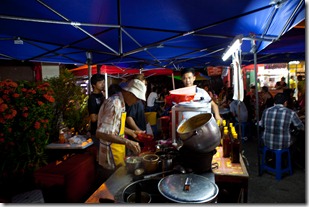 Then there is the food!  The brilliant part about Malaysia, is that they are very strict on food safety, even for food carts.  This means that eating a food stalls in Malaysia is probably about as safe, if not safer, than eating in restaurants in other asian countries  This opens up the possibility for a whole universe of deep fried goodies, deserts full of things you've never seen and can't pronounce, and plenty of chances to simply pick at random and have "one of those".  There were egg shaped ice creams, fresh spring rolls, sushi, bubble tea, sweet tofu with black sugar syrup, and that's just to whet your appetite.  You can get several meals worth just by walking around and enjoying all that is one offer.
It really doesn't matter what you get at the night market, the experience itself is worth going.  It's something not to be missed in Melaka.