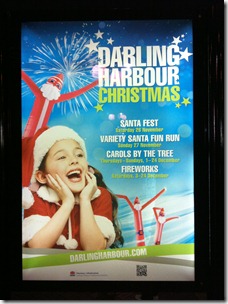 As part of theevents taking place at the newly reinvigorated Darling Harbor area, there was a Christmas celebration taking place throughout the month of December right down by the harbor.  It provides a great venue for all of the festivities as it looks right out on the waterfront and is filled with good restaurants and bars.
We unknowingly already went to one of these events, whcih was the Santa Fun Run.  In addition to this, acapella groups were performing Christmas carols every weekend and on many of the weekdays throughout the month.  Topping it all off was a fireworks display every Saturday until New Years, when the large display usually happens.  This is just my opinion, but that seems to be an awful lot of expenditure by the city to ensure that everyone gets in the holiday spirit.  Still, it really did create for a great atmosphere and as we found out, many people took advantage of it.
Since this was both a special event and fit the magic criterion of free, we decided to fix up a little picnic basket of cheese and crackers and make our way down to the waterfront at sunset.  We got there a bit later that we had planned and the area by the water was packed, but we managed to sneak in a little spot facing the city.  We got our cheese and crackers out, so we could be properly fancy, and sat back to watcht the fireworks.  They didn't last very long, but the spot was perfect, with the lights reflecting off the water while we stared at the nighttime skyline.  It was a fantastic, romantic evening, thanks to Christmas at Darling Harbor.