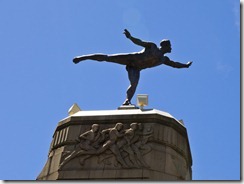 Right towards the center of the city is a large park known as Aucklan domain.  It's home to a large number of sports fields for public use, a thousand perfect picnic spots, statues both traditional and modern, and the Auckland museum, which dominates the area from its position on high ground.  You can really tell that New Zealanders value keeping in touch with their land from the fact that they put so much valuable real estate to being a natural refuge in the city.
The Museum
The Auckland Museum is combination of several museums all tied into one.  It is both a cultural museum, with several displays on Polynesian culture and artifacts including a damn impressive 25 meter war canoe, as well as a natural history museum and war memorial.  There are three floors, each with different exhibits, as well as a travelling exhibit area.  We even got to experience what it would be like if Auckland were to be consumed by a volcano, an experience I hope we only have simulated.  It's all done extremely well, and despite Naoko's aversion to museums, I think even she had a good time (though part of that may be due to the free wi-fi available in the museum)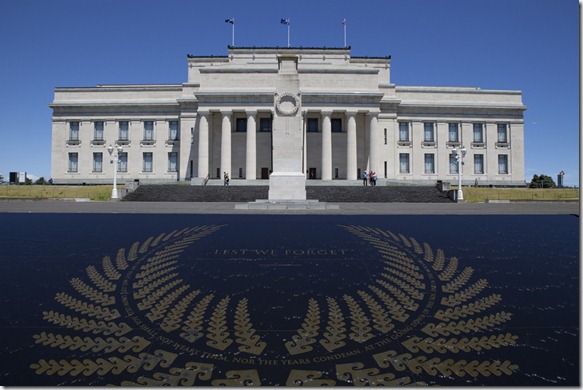 Both the Museum and the views from it are stunning.  The museum rests on top of a hill and has a sweeping vista of the bay.  You can look out and see all of downtown Auckland as well as the sun bouncing off the water and the ships sailing in the harbor (Auckland is know as the City of Sails).  It's a gorgeous view in a city of good views and it's hard to ask for a better spot to sit down and have a nice picnic lunch.