The newly renovated Darling Harbor area in Sydney has one of the coolest play areas for children that I've seen in quite a while.  It's simple but engaging, let's kids explore the effects of their actions to undertand the physical principals involved, and it let's em get totally soaked.  For a free, public play area, it's impressively well designed.
The area follows the journey of water as it flows from its source, through a series of well crafted gates and switches, as well as other features before it trickles out of sight, only to come back in the form of a walk-through fountain.
One starts the old fashioned way, by pumping out water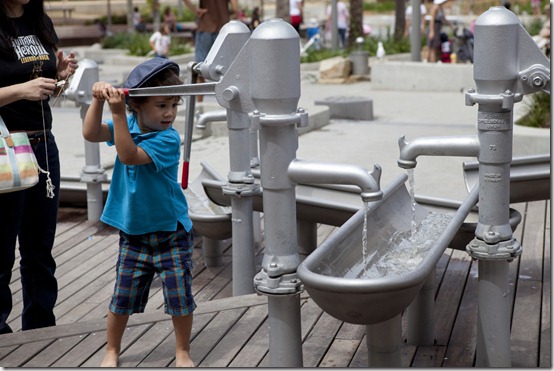 The water then enters a gate system that has been designed so that if one area gets too full, the water passes through overflow points to ensure that nothing gets too out of control.  This balance allows for a wide variety of play, which still keeping things orderly.
By moving switches and lifting gates, the "kids" can quickly see how what they do affects the way the water flows, where it pools, and where is left dry.
Towards the bottom of the path, there are additional features for kids to play with, so they can splash a little more water around, and maybe just learn a little bit as well.  One of the features was a water wheel, while the other was a spiral, both of which show ways in whick simple machines can be used to get water into aquaducts where it can be harnessed and used.
The water then trickles out of sight, until it explodes out quite briliantly in a fountain, which is great in the day, but gorgeous at night.  The fountain is open so that kids can walk through and not only see the fountain, but feel it for themselves.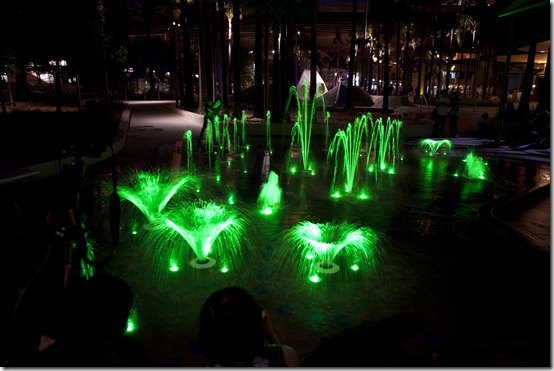 Kudos to whoever was in charge of funding this project, as well as the designer who has created a fantastic play area for kids that does exactly what a good play area should:  let children explore the world around them while learning about what makes them work.