Wellington is known as a foodie's heaven, and it's easy to know why.  It has an almost inexplicable amount of restaurants, cafes, and bars, all of which have their own cool style and look impressively tempting.  There are trendy bars with neon and sexy mood lighting, there are British pubs with warm wood interiors and delicious fried froods, and there are plenty of comfy cafes to while the day away.  The main drags of Courtenay Place and Cuba street are full of them, but there are plenty to be found scattered throughout the other areas of the city.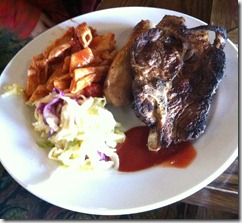 Our first introduction to food in Wellington was the free BBQ provided by our hotel (Cambridge Hotel).  It's apparently something they do every Wednesday.  I'm used to free food in Japan, so I was expecting a quarter piece of sausage, but when we got this, it was all smiles.  They were taking in a donation for Movember, a charity in which the men opt not to shave their mustaches for a month to prove….something.  Anyways, it helps someone somehow, and for just a donation for charity, we were happy to get that meal
But the good grub at the Cambridge was only just beginning.  They serve a breakfast starting at just NZ$2 for eggs on toast, and they also do a tasty Sunday roast, of which we managed to get the last 2 pieces.
But the best meal we had was at a lovely bistro named Capitol, just down the road from the hotel and in the same building at the Embassy theater, the premiere theater for the Lord of the Rings. They serve up a wonderful menu of items full of local delicacies, whether it be produce, fish, and meat.  It's a simple yet elegant setting, and the service was friendly and quick.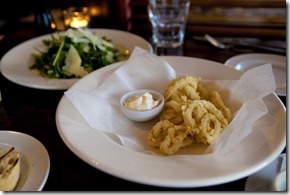 We started with fried Calamari and a rocket and parmasen salad.  The calamari was done just right, something not so easy with squid, leaving it juicy and delicate on the inside, but crispy and delicious on the outside.  The seasoning was light, to leave the taste of the squid in tact, but was bold enough to compliment the natural flavors. The salad had a simple viniagrette dressing which brought out the flavor of the rocket, which matched well with the saltiness of the parmesan.
For the main course, we went with a Tarakihi, grilled in oil with capers, garlic, and tomatoes, as well as a steak served over black lentils and topped with a healthy dose of butter.  Both were phenomenal and it's hard to say which one we liked best.  The fish was beautifully done and almost melted in your mouth.  The beef and the lentils also combined with exquisite flavor, which went toether perfectly.
We left feeling exceptionally satisfied, not to mention incredibly full.  Our kudos to Capitol.  It's definitely a place we would recommend to anyone going to Wellington.