The Royal Botanic Gardens in Sydney are located downtown right next to Opera House and Circular Quay, where you can come and go by Ferry.  This is another great place to go when you are on a budget as it's completely free.  It is, essentially, a large urban park in the vein of Central Park in New York, Forest Park in St. Louis, or Ueno Park in Tokyo.  It offer some fantastic open spaces and fields to take a break from the urban jungle of Sydney.  We headed there to sit down in the grass and take a load off after wearing out the soles of our shoes walking around the city.
The Gardens are set up with a number of different areas, each featuring different flora for you to look at.  The National Herbarium of New South Wales is also located here for those wishing to know more about the plants.  We decided to pass and be a little bit more self directed as we had some more serious business that we had to attend to.
As I said, serious stuff.  The gardens are also used as a location for private events, such as company parties (which we walked through) and weddings.  We were also just a day too early for one of the large concerts that are also held in the Gardens, another one of the many events that are held here.  However, if you don't have a specific event, one of the most famous spots in the Gardens is on the north eastern side and is known as Mrs. MacQuarie's chair.  This is the most famous spot in Sydney for taking pictures of the Opera House and the Harbour Bridge.  Chances are, if you've seen a picture of the two together, it was from this location.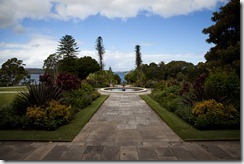 Also located in the Gardens is Government House, the official residence of governors of New South Wales.  It's a large residence complete with its own gardens and created in a traditional victorian Style.  We were unfortunatley too late to take a tour of the interior of the house, but just walking around the exterior and the gardens provided plenty of distraction.  We also came across an interesting tree and upon asking one of the garden staff about it, we received an impressively in-depth lesson about the history of Banskia, from the times of Gondwanaland to the present.  Our big thanks to this mysterious gardener and his impressive knowledge.
All in all, the gardens is a great place to relax and Sydeny keeps it well maintained and also uses it to its full potential.  It's a great place to spend some quality time for those on a budget (or even those who aren't).