In a hot tourist destination like Sydney, the tour business is jam packed with operators offering all sorts of tours, whether they be walking tours, cycling tours, or left-handed unicycle tours of haunted city outhouses.  One thing they almost all have in common is that they are expensive, with a basic walking tour usually costing at least AUD$30 and going up from there.  Thus we were both surprised and delighted to find out about the I'm Free tours of Sydney, which is a 3 hour walking tour of the central downtown area, offered for the great price of, you guessed it, free!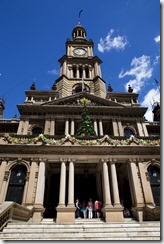 Of course, free is actually a bit of a misnomer.  It would be more accurate to call it I'm Whatever Price You See Fit To Pay For This Service Tour, but I guess this was too large to print on a T-shirt.  Riding the recent fad of offering content in a name-your-price manner (such as Radiohead's release of In Rainbows and the Humble Bundle), this tour is offered purely on a for tips basis.  This means that you could do the whole tour and not pay a cent.  Of course, this would make you a bit of an ass, but it is possible.  Either way, it opens up the possibility of a tour on any budget.  The tour is also given every day at both a morning session and and afternoon session, so there is no reason why you couldn't (or shouldn't) take advantage of the opportunity to explore the city with guides to were born and raised there.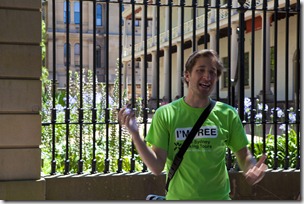 Our tour guide was one of the two people who run the I'm Free tours, and met us right near the centrally located Town Hall station.  With his bright green shirt on, he was hard to miss. The first thing we received was a map of the city which listed a number of museums, attractions, restaurants, and cafes that are either free, or offer great specials for the budget traveler.  This map, in and of itself, had a great amount of value, and is a great addition to the tour as it means we had some great information that we didn't have to worry about writing down while walking.
We had about 15 – 20 people in our group, which was a good amount, but small enough that we could always get close enough to hear what was being discussed.  We walked through the Queen Victoria Building, saw the beautfiul fountain and cathedral in Hyde Park, and passed by the Rum Hospital before heading to The Rocks district for a quick break.
Following this, it was up into the Rocks, followed by a look at some famous pubs and then right under the Sydney Harbor bridge.  We finished up at Circular Key, right at the wharf, looking out over the harbor.  It was three hours well spent and we're glad that we were able to join.  The whole tour could probably be slimmed down to a healthy 2.5 hours to give it a higher pace, but it really was well done, and it's hard to complain too much for the price.  Our sincere thanks to the I'm Free Tours.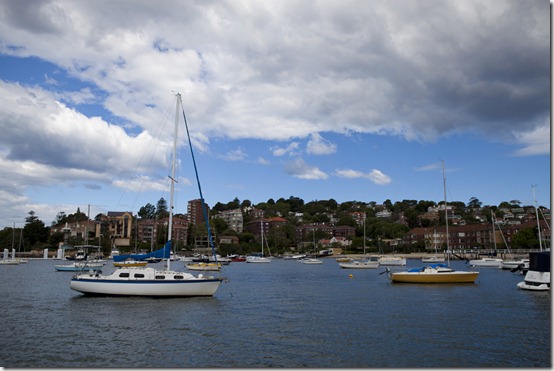 I'm Free: Free Walking Tour of Sydney
Every day, 10:30am & 2:30pm