The truth is, if you're looking for the cultural and natural offerings that Malaysia has in abundance, you're going to want to look outside of Kuala Lumpur.  That being said, it's most likely that when you're on your way in or on your way out, you're going to be heading through Kuala Lumpur.  Don't look so glum, as it's a perfect place to stock up on all of those great souvenirs as well as all sorts of things that would be much more expensive if you're heading to a developed country (I actually don't like that label, but that's a whole different story).  Kuala Lumpur is absolutely packed with shopping malls.  In fact, it seems that there must be some law requiring a shopping mall every 500 meters in order to develop an area. So where do you head?
Suria KLCC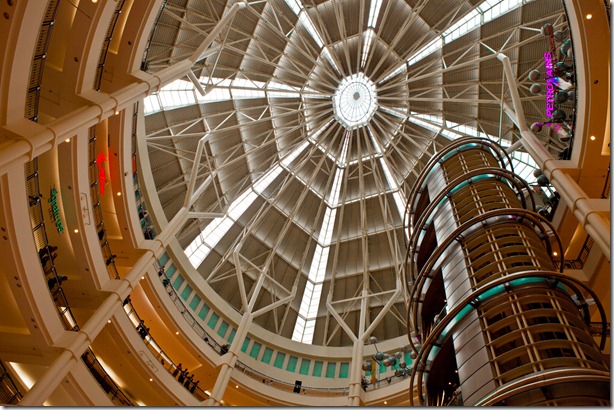 Beneath the gleaming sprires of the twin Petronas Towers, lies 5 floors of upscale shopping with all of the western stores, boutiques, and brand stores that you may have been missing.  A large food court can be found if you're looking for some reasonably priced eats around the twin towers area.  Also part of this complex is the theater at which the Malaysian Philharmonic Orchestra performs.  If you have any interest in classical music at all, it's an absolutely must go.
The Pavillion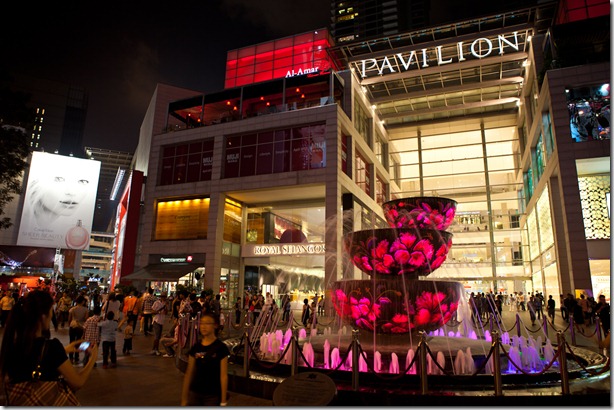 One of the newer kids on the block and making a big splash is the Pavilion.  This 7 floor behemoth has all of the brands that you've ever heard of as well as many more you haven't.  There is also a Tokyo street, which is a great place to try out all of those Japanese treats you may enjoy as well as stock up on some goods straight from Tokyo at the import mart.  In addition, there are a huge number of restaurants, so if you're looking for someplace to sit down and grab a bite to eat, you're sure to find something you like, whether it be American style ribs, Japanese shabu shabu, or excellent dumplings at Din Tai Fung.
Starhill Gallery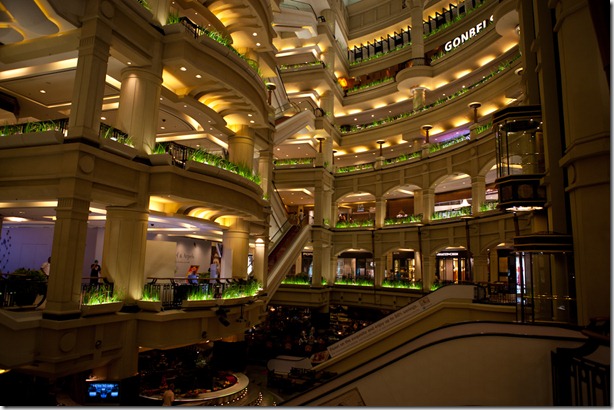 Sometimes, when you need to fill up your private jet and you've finished smoking your gold cigar and hunting the most dangerous game, you might need a little retail therapy.  The Starhill Gallery has you covered.  It absolutely drips with luxury.  Soft curves, soft light, and soft jazz combine for a purely rich experience feature premium products that are priced higher than I can count.  Even if the merchandise may be above your budget, the interior itself is gorgeous and is worth seeing, even if the atmosphere makes your wallet anxious.
Sephora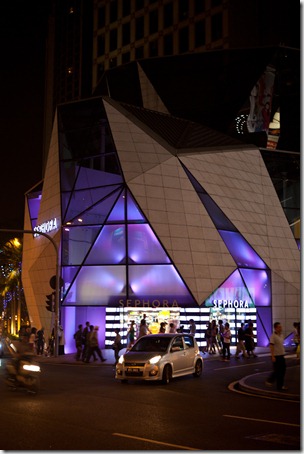 Situated across from the Pavilion and right next to the Starhill Gallery is it's funky young cousin, Sephora.  Looking like a concrete truck slammed into stained glass factory, the structure is sure to catch your eye, especially at night as it glows with cool purple-blue light.  This is a new addition to the mallscape, but it's been quickly turning heads with its style, both inside and out.  This is the flagship of the French beauty supply store and offers a huge selection of products from a wide variety of cosmetic brands.  The items go from your standard fashion brands all the way to the very high-end professional grade tools and products.  Whether you're a woman who's looking to stock up on some new colors, or you're a guy who is looking to try and fit in to the ladyboy scene up in Thailand, Sephora is likely to have just about anything you need.  (Unless you're really looking to fit into the ladyboy scene, in which case you should know that Sephora does not perform those types of operations in house.  Proceed to Thailand.)
Berjaya Times Square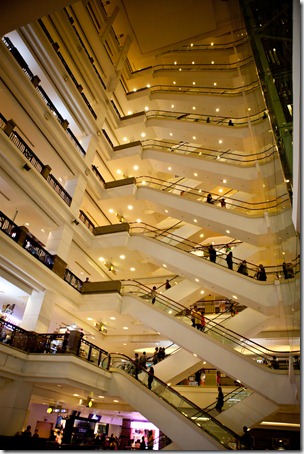 Perhaps what you've been missing in your shopping experience is the feeling that you're low on oxygen, like back in your Everest climbing days.  Well drag your tank down to Berjaya Times Square, in which 10 floors of shopping tower above you, engulfing you in a mountain of consumerism.  It is, at last check, the 5th largest building in the world, so be prepared for plenty of walking.  You will not find all of the international top fashion brands here, but it is a good place to discover some new brands including some local hits.  After all of the retail spelunking, you can head down to the food court, which is a sprawling labrynth of restaurants with a focus on pan-asian cuisine, but, like all malls everywhere, you can still find a McDonald's.  If you have a hunger for electronics, you'll also find plenty of that on the menu with stores from the likes of Apple, HTC, Samsung, Dell, Canon, and others.  So no matter what your appetite, you'll be sure to find something that fits.