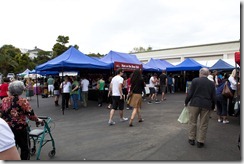 Every Saturday and Sunday, La Cicale, a French bakery and cooking supply store, hosts an outdoor market featuring fresh produce and local food producers.  We stopped by to see what was happening at the market that was ranked Aucklands best for the past several years.
First, I was actually expecting something bigger, for all of the fanfare surrounding the market.  However, what it lacked in quantity, it did make up for in quality – and free samples!  There were local brewers selling their fresh apple and pear cider.  There were about 3 different vendors selling some amazing hummus in many different varieties.  I could probably have just sat there all day with some french bread and gorged myself until I turned into a chick pea, but we decided to refrain.  There was amazing home made lime and honey jam, buffalo blue cheese that makes you forget your own name, and a whole lot of baked yummies.  There were even treats for K9 companions!
Of course, there was also a huge array of fresh produce and all of it looked really nice.  It was also the first time that Naoko had seen an artichoke in its natural, non canned form.  They even had egg plants bigger than her head.
All in all, definitely worth making the trip on a weekend morning to fill our bellies with free samples, and much fresher than doing the same thing at Costco.