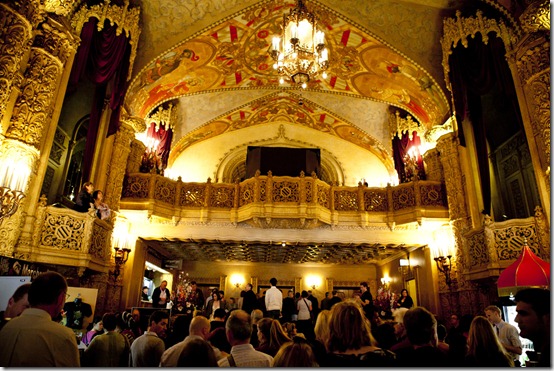 Nao loves the Phantom of the Opera.  I mean loves it.  I think she would probably prefer if I took to wearing a mask most of the time and singing everything I say to her.  This being the case, when we found out that A) There was a sequel to The Phantom of the Opera, titled Love Never Dies, and B) that it was playing in Melbourne while we were there, we decided that we had to head downtown in order to take in a bit of culture.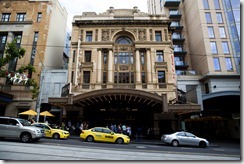 The play was taking place as the Regent Theater, located downtown in the central business district.  The theater has existed there since 1929 and is a classic old theater, the type that they just don't make anymore. From the moment you walk in, the architecture and style of the place really grabs you.  We immediately looked at our scrubby backpacker clothes and felt ashamed.  These being the only clothes we had, however, we pushed forward and made our way to our seats. Unfortunately, we were not allowed to take any pictures of the interior of the theater, so you will had to trust my words that it is an incredibly impressive place.  With rich carvings on the walls and in the ceilings, including a brilliant sunburst, that takes up the main focus of the ceiling.
The play itself was fantastically done.  The sound in the theater was perfect, showing off the power of the actors' voices as they filled the room with the melody.  It was also performed with a live symphony which was right on with everything.  I was personally really taken with the sets, which were incredible!  There was a central turntable upon which the main pieces moved and additional towers on either sides used to break up the central focus.  The use of both traditional, old-timey features mixed with bright LEDs and other light features created the right sense of surreal atmosphere that  should be portrayed based on the Coney Island setting of the play.
Our big ovation to the cast and crew of Love Never Dies for a fantastic show.  I hope that it was successful enough that they decide to put it on again so that more people have a chance to see it.