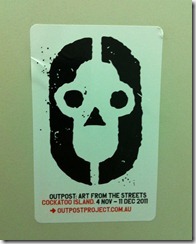 I won't claim to be an art afficiando, as that would be a diservice to both afficianados and people who claim things, but ever since watching "Exit Through the Giftshop", I've developed a huge fondness for street art.  Now I'm talking about serious street art, not just an angsty kid with a spray can.  There's something about the creativity of the work itself mixed with the guts and committment that it takes to pull off a piece in the middle of the night to avoid any legal entanglements that seems to grant extra meaning.
We were lucky enough to find out about a street art exhibit, titled Outpost, through the well known marketing strategy of word of mouth combined with sticker on bathroom stall (I'm sure it'll be on an upcoming Mad Men).  The exhibit was taking place on Cockatoo Island, one of the small islands in Sydney Harbor, which seems to have lost it's former glory, as it is now filled with empty industrial warehouses.  This did, however, make for a great location to exhibit the art style that was being featured.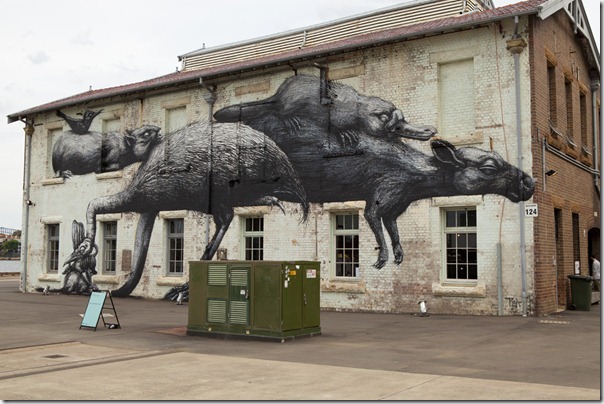 There were over 150 artists represented, with work from all over the world, so we got to see a great variety in the types of work that was represented.  Some of the more famous names included Banksy (the artist featured in Exit Through the Giftshop"), Beastman, Meggs, Everfresh, and others.One of our first stops was to look at the collection that included a lot of Banksy works.  I particularly like his work because it's often simple yet poignant, usually having something to say about modern society.
But there were also a number of other great artists represented there as well, that I wasn't so familiar with. I wish I could remember all of their names and tell you whose work was whose, but alas I am an old man and did not write them down.  However, if you pick any artist on the list, I'm sure you will find that they make some spectacular work.  All in all, it was a fantastic way to spend the afternoon and left us feeling properly cultured.