Being the coupon lovers that we are, when we saw an offer for 2 for 1 shortstack pancakes, we had to take a look.  We went to the Pancake Parlour, a Melbourne institution for flapjacks.  They have an impressively full menu with plenty of non-pancake options.  But let's be honest, we're here for them grittle cakes.  They were served with your choice of vanilla or chocolate ice cream, or fresh cream.  I usually tire of pancakes quickly, but these were impressively scrumptious.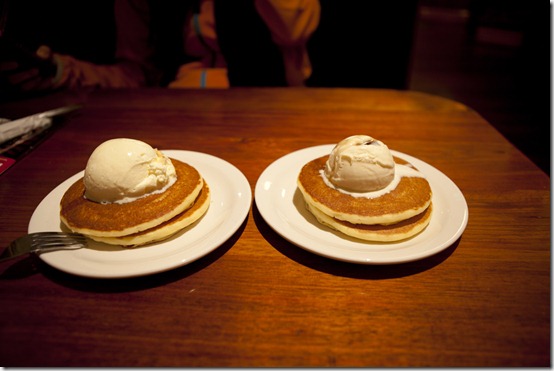 When we finally started crashing from the carbs, we decided to seek out food in the Greek quarter.  I think it's called the Greek "quarter" because it consists of only about 4 restaurants.  So we picked the one that looked like a good match between value and scrumptiousness and went into Stalactites.
The atmosphere of the place was really nice, and though it was a bit crowded and our waitress didn't seem like the brightest knife in the drawer, the menu looked nice, with all of the Greek favorites, such as spanikopita, Souvlaki, etc.  We ordered calimari, spanikopita, and 2 orders fo souvlaki.  So how was it?  Well first let me say, the food looks absolutely stellar
However, the taste itself left a lot to be desired.  The spanikopita was dry, and calamri was limp and soggy.  The souvlaki was the best part of the menu, but even it was just  average.  In the end, we were fairly disappointed with our time there.  Of course, if you're looking for display food, then stalagmites delivers, but if you're looking for really fulfilling Greek delights, try one of the other three restaurants.