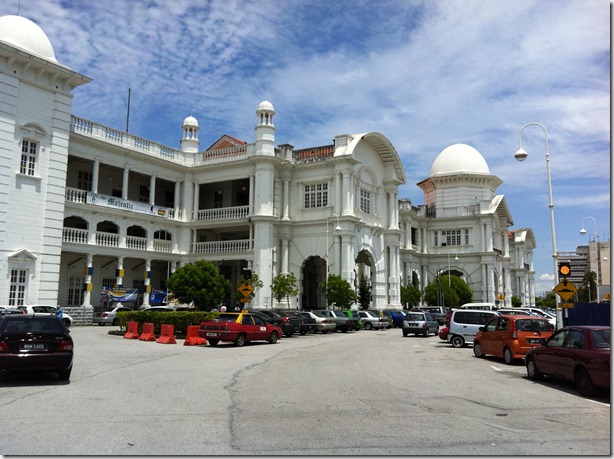 Ipoh, a town located a few hours North of Kuala Lumpur, serves as the gateway for many on their way to the Cameron Highlands, a popular resort destination.  The town of Ipoh itself was once Malaysia's second largest city and was a huge boomtown as it was located next to several profitable mines.  Unfortunately, time has passed by, and all of this economic activity has dried up or moved off, leaving Ipoh a shell of what it used to be.  It is still worth takig a few hours to walk around the town if you happen to find yourself there on the way to the Cameron Highlands, as you can still see some marvelous buildings.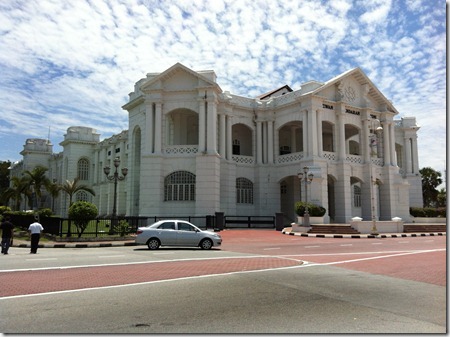 The train station is well known for it's beauty.  Striking white, it stands out on the end of the downtown area and across from the courthouse, which is qually striking.  Walking down the street that goes directly out of the station, you can see many old buildings from the past of this center of industry.  Great banking buildings, the old clock tower, and the Ipoh club, are still left, along with a beautiful mosque which is definitely worth looking at.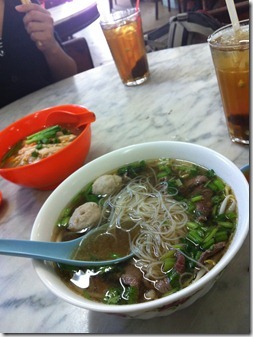 The most spectacular thing we discovered there, was not from Ipoh's past, but rather from it's stomach.  Fantastic beef noodles and well as chicken noodes, served up by a lovely old woman in a small, packed market that is clearly a favorite of locals.  The broth was just right, and the beef was melt in your mouth soft with fantastic flavor.  The noodles in the chicken noodle soup were a bit spongy, adding a really interesting texture to the dish in addition to solid flavor that was there.  Plus, you have the added benefit of this being Malaysia, a land with extremely strict food preparation laws, even for small food stalls, so you can be relatively confident that the little food booth you're at is probably cleaner than the restaurant you go to back home.  Even if not, the taste is worth it. If you happen to find yourself in Ipoh, you'd be missing out on one if it's best attractions if you don't find your way here.