One Bag to Rule Them All
When you are on a long term trip, your bag is your life.  It's your house, your closet, your emergency kit, and your refrigerator.  Hey, they don't call it backpacking for nothing.  So when we were planning the trip, I did a lot of reading and research on what bag to get, finally decided on the Osprey Porter 46 in the delightful red color.  One of the main reasons is that I wanted a bag that I could carry on an airplane and the Porter is the maximum allowable carryon size.  It also comes well recommended as a travel pack.  Now that we have been on the road for 6 months, dragging the bag through 13 countries, I wanted to write a review of the Osprey Porter 46 so that people considering this as their bag have an idea of what to expect.
Looks
Hey, you want a bag that's not going to cry out dirty backpacker, right?  Well, the Porter looks good!  Even after 6 months of carrying it through all sorts of different conditions, it's still shiny and sexy.  That's not to say it looks perfectly new, but most marks come off easily, and the red means that scuff marks somewhat blend away into the color.  The lines of the side walls as well as the handles make the bag look like the hybrid between hiking backpack and carry-on that it is.
Another aspect of looks is how big the bag looks.  Of course, this will be a function of how much you put in the bag, but the straght jacket compression on the bag is fantastic.  It really lets you cinch the bag down once you've packed it so that the bag looks (and is) as small as possible given what you have in it.  This is especially important if you plan to carry it on an airplane as having an overly large looking bag is a sure way to get stopped by one of the airline staff.  Having been on 22 planes in the past 6 months, I have only been stopped once because of the size of the bag, and in that case, I had packed and cinched it poorly.  Luckily I was saved by an immigration officer who said I should just keep going as he'd already processed my passport so I couldn't wait around and talk to the airline rep.  This is not to say the bag is small, it still takes up a fair amount of room on my back, but the lines and ability to cinch it down makes a big difference with appearances.
Packability
In the end, your bag's main purpose is to store your stuff, so it's important that it be easily packable and accessible.  The Osprey Porter 46 performs extremely well in this regard, with one major caveat, which I will get to in a second.  The Porter is light on pockets and consists mainly of one wide open center area that you can use to pack in whatever you want.  The three pockets it has are a zippered exterior pocket on the top, below the handle, a zippered exterior pocket on the outside of the main flap, and a zippered pocket on the interior of the main area.  The top exterior pocket is actually fairly large, so great for storing things you'll need immediate access to (pack cover, playing cards, candy, etc.).  The exterior pocket on the main flap is long and flat, so it's ideal for papers such as flight reservations or hotel bookings.  The interior pocket is long and fairly thin.  I've used it to store a few extra documents and some extra compression bags.
The great part of the pack could also be it's weakness, depending on how organized you are in packing.  The fact that most of the bag is just open space means that you cannot rely on the bag to help you organize your things.  The up side is that it's flexible for pretty much anything you want to pack, from clothes to bowling balls.  What I have found helpful and would highly recommend is getting your hands on a few packing cubes, such as the ones from Eagle Creek.  I use one for my clothes and another for our medicine and supplies (tape, bandages, extra contacts, etc.).  This makes the bag super easy to pack, provides some structure to your stuff, and makes it easy to get at what you need without having to rearrange everything.
Comfort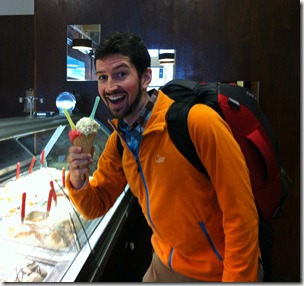 All things considered, the pack is reasonably comfortable, but this is where the Osprey Porter loses a few points when compared to a hiking backpack.  Because it is not really designed for long hikes, but instead for travelers, it does not have the same kind of suspension system that a true hiking pack would offer.  My point of comparison on this comes from a Gregory hiking pack that I own which is super comfortable, offers a pocket of air behing your back, and moves comfortably with your body.  I wish the Porter had the same, but then it would not be able to offer the same dimensions.  In the end, this is what you lose in the compromise that the Porter makes.  It's still reasonably comfortable and the backpack straps, which can easily be tucked away inside the back flap, are well padded.  The waist strap, however, being super thin, doesn't really provide much support and the majority of the weight will still be on your shoulders.  That being said, I've found that we rarely spend too much time walking around with our backpacks on for hours, and while not the ideal of comfort, the bag has never been a big problem.  However, if you plan on doing lots of backpacking, where you will be doing treks for long hours with your bag, this might not be the back for you.  However, if you plan on having the bag on when moving from one city to another but then leaving it in your room when you go out most of the time, the Porter is comfortable enough.
Durability
The thing is built tough!  It's really a tribute to Osprey's quality as it has been dragged, dropped, and thrown across half the world and you would never know it.  Even the Gregory pack that Nao is using is starting to show some wear and tear at a few seams, and Gregory is known for having good quality packs, but the Osprey is still going strong.  The stitches are still tight despite my cinching the hell out of them to make the thing as small as possible.  As mentioned in the Looks section, it seems to shed off all of the little scratches and scuffs as it still looks quite new despite its mileage.  The shoulder straps are still solid and the padding has not diminshed or squished down in any noticeable way.  All of the zippers work perfectly without a struggle – smooth as a baby's bottom (if a baby's bottom was made of high quality zippers).
The only place where I have noticed it wearing a bit is on the back side of the pack where the waist strap goes through the rear panel of the pack.  This area used to lie flat, even when being used as a backpack.  Recently, it has started to pop out a bit, which can dig into your lower back slightly.  Usually just a quick shove to make it go back down suffices to make everything comfortable again, so it's not a major problem.  For this to be the only issue, I consider it a huge success.
Overall
I'm very happy with the Osprey Porter 46 as a long term travel pack.  It is small enough that it can be carried on an airplane but large enough to fit in whatever you really need.  Seriously, if you can't fit it in here, you're probably bringing too much.  The freedom that gives is hard to overstate, and we smile to each other every time we get off an airplane and can walk right past the baggage claim on through customs.  We also get a chuckle out of all of the massive bags we see people carrying.  The Porter is just right, and provides a perfect compromise between a carryon suitcase and a backpack.  I would have no problem recommending it to anyone except for the case in which you plan on doing lots of hiking with the bag on your back.  In that case, you might want to look specifically for a hiking pack.  The only other caveat I would add is that the Porter's large open main pouch might be too much if you don't add a little of your own organization with something like packing cubes.  These two points aside, it's great pack that will see you through many adventures and might very well outlast you.
Researching packs is always a pain, so if you have any questions about the pack, please feel free to ask and I would be happy to answer to the best of my ability.
Happy Travels!