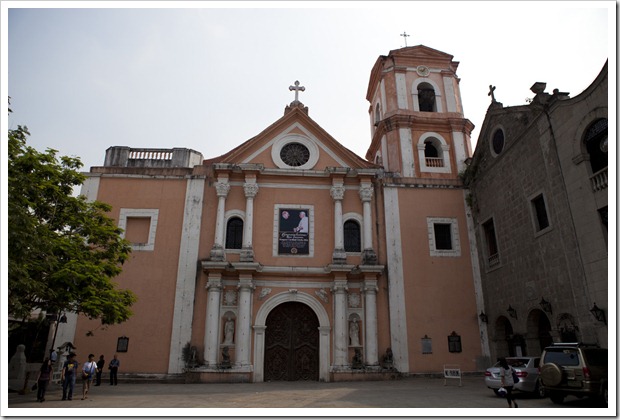 For over 300 years, the Spanish ruled the Philippines from within the stone walls of Intramuros, the Spanish only section of Manila.  They oppressed the Philippinos and used them to build their empire across the seas.  Nowadays, Philippino cyclo drivers are working to pay these westerners back by ripping off one tourist at a time as they visit the ruins of the old Spanish Quarter.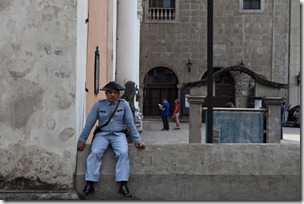 Upon arriving in Intramuros, which is easily reached by cab from just about anywhere in Manila, we suddenly found ourselved to be very popular as we were approached by several people on cyclos offering to take us around the Intramuros area.  After finding one driver whose jib cut we liked, we asked him his price to take us around.  He then brought out his trusty map showing 15 or so different sites and told us that it would be 250 pesos and "take about 30 minutes".  This sounded reasonable for a ride around the entire area so we agreed and hopped in.  It was my expectation that given the short amount of time, we would be driven around the area and then dropped off.  It was much to my surprise that he dropped us off at Fort Santiago to take our time in seeing the old fortification.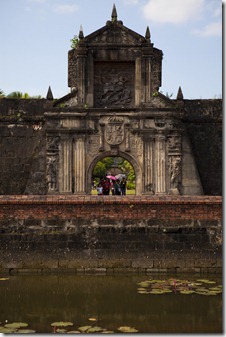 We hopped off and took a tour of the fort, which is well worth the entry fee of 50 pesos.  The outer fortifications are still in good condition.  They look old, but they look good old, not we-don't-give-a-crap-about-our-heritage old like you see in some parts of the world.  You can explore the interior of the fort as well, including the small chapel underground and the old dungeons where malcontents were stored from time to time.
Another building on site is the Rizal Shrine, a memorial to Jose Rizal, one of the most important Philippinos who was part of the Philippino independence movement.  Rizal was imprisoned in Fort Santiago for his anti-Spanish actions and was eventually martyred at the same location.  Like many other leaders throughout history, his death did not have the pacifying effect that the Spanish were hoping for but rather triggered an intensification of the independence movement which was eventually successful in creating a free Philippines, though not after first having to put up with the Japanese during WWII.
Following our hour and a half at the fort, we saw our smiling driver waiting for us and hopped in to have a look at some of the other sites in the area.  There are several old churches and Cathedrals, including San Agustin, the oldest church in the Philippines.  I'm always a fan of church architecture and these were all very beautiful.  Additionally, there is the old grounds of the Japanese HQ from WWII, as well as several other important Spanish government buildings.
After two and a half hours of being peddled around, we had had enough of the Spanish for the day and decided to call it quits.  Our driver took us back to San Agustin Church given its center location, and we went to settle up the bill.  On handing over our 250 pesos, we were greeted not with the look of thanks we expected, but with a look of confusion.  He went on to explain that the price was not 250 pesos for the tour, but 250 pesos for 30 minutes.  This would make it 5 times the price we were imagining.  Of course, this is not what he had said (regardless of what he had intended to say), and despite waiting for us for some time, he had done about 10 minutes of peddling during that whole time and while 250 pesos was quite reasonable, 1250 pesos was way too much.  We argued for a while before finally giving him 500 pesos and storming off.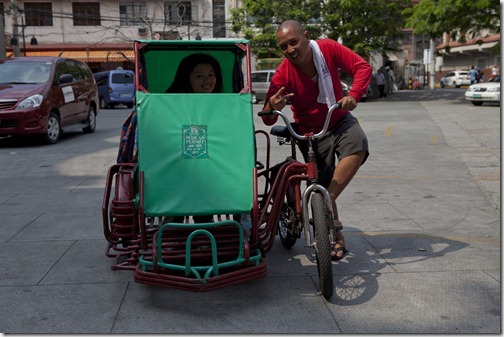 It's worth repeating that for things like this, confirming exactly what is included in writing is well worth the extra pain-in-the-bum effor that it takes in order to avoid situations like ours.  That being said, Intramuros is one of the few remaining culturally rich areas of Manila and really is worth seeing on any visit to the Philippines' capitol city.  Just watch out for people peddling your pesos away.