Difference is what makes Singapore unique.  Long has it been the melting pot for various asian cultures as Chinese, Indians, Arabs, as well as Malaysians, Indonesians, and countless others vied for a piece of the lucrative trade that has flowed through the area for hundreds of years.  Whatever brought them to the island originally, this mixing of cultures has created a unique environment of combinations and contrasts in which you can get a different cultural experience just by walking a few blocks down the street.   This is not even to mention the paradise that this has created for foodies with a wanderlust-filled palatte.
As we were told at the Singapore Tourist Information Center by our very helpful assistant, you cannot really say you've visited Singapore without visiting the 3 main ethnic areas: Chinatown, Little India, and the Arab Quarter.  These are enclaves where people from these cultures found a place to protect their traditions while at the same time mixing with others.  Each is a unique experience and should not be missed.
Chinatown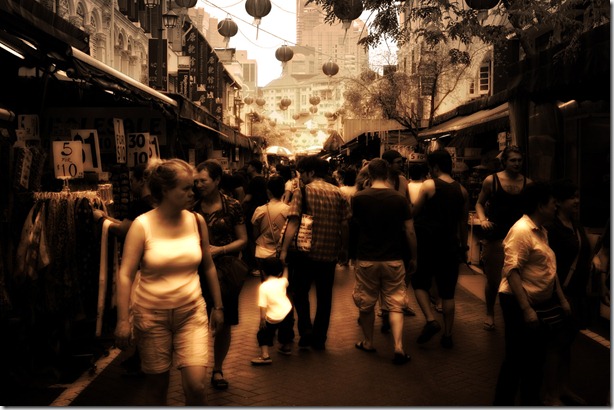 Let's face it, you want some Chinese food.  You can't come down to Asia and not get some Chinese food.  Well this is the place to not only get some Chinese food, but also to pick up all the red lantern souvenirs that your heart desires.  There are also a few Chinese-style temples that  you can visit in case you will not be visiting the mainland any time soon.  That being said, the Chinatown in Singapore is much like the Chinatowns that you see all over Asia.  The same souvenirs, the same food, and the same smells.  This means it's as good or as bad as your experience in other places.  Still, it does make you feel like you've been transported to Beijing without the jetlag and is worth visiting.
Little India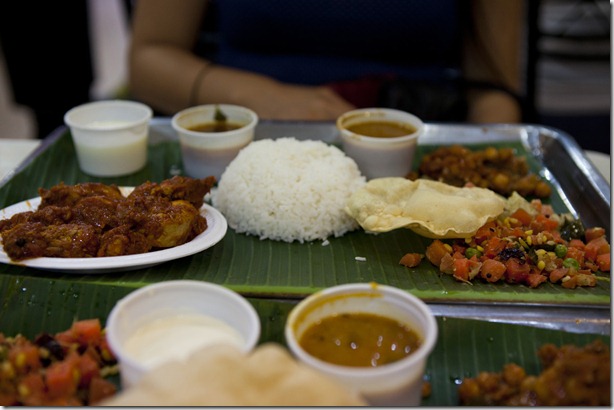 Let's face it, you want Indian food even more than you want Chinese food, especially since that Chinese food left you feeling hungry 30 minutes later.  Welcome to Little India, where the large Temil population is located.  You will know that you've entered the area when you start to smell the sweet and spicey aroma of curry cooking in the back of every restaurant.  It's also a great place to stock up on these types of spices as there are many shops catering to the locals at very reasonable prices.  It's also the location of a number of reasonable hostels and was where we stayed for several nights at the Inn Crowd.  The location means you have great food at your doorstep, and the nearest metro stop is about a 10 minutes walk away, all at a reasonable price.
Arab Quarter
Let's face it, you know nothing about Arab food.  Oh, you like hummus do you?  Well I don't care.  How about some Murtabak?  Yeah, I didn't think so.  Don't feel bad though, we didn't know about this delicious dish until we were introduced to it by the woman helping us at the Singapore Tourist Information Center.  She described it as Arabian pizza, and went on further to claim that after eating Murtabak, you'd no longer crave pizza.  Well, she may have underestimated my love for pizza, but she was certainly right that Murtabak is fantastic.  A hand tossed flatbread grilled on a large metal plate and stuffed with your choice of chicken, fish, or deer (highly recommended), it's spiced just right and has a great texture to it.  I may not give up the Pizza Hut, but I will definitely have Murtabak again.
Of course, beyond wonderful food options, the Arab Quarter offers sights such as the Sultan's Mosque (in picture above) as well as a number of other smaller mosques which, while not as large, still offer some excellent views.
Just Go
The wonderful part is that all of these areas are within a short metro trip of each other, with Little India and the Arab Quarter being within walking distance of each other.  If you're going to be in Singapore, make sure that you pencil out some time to visit these areas.  Your mind and your stomach will both thank you.