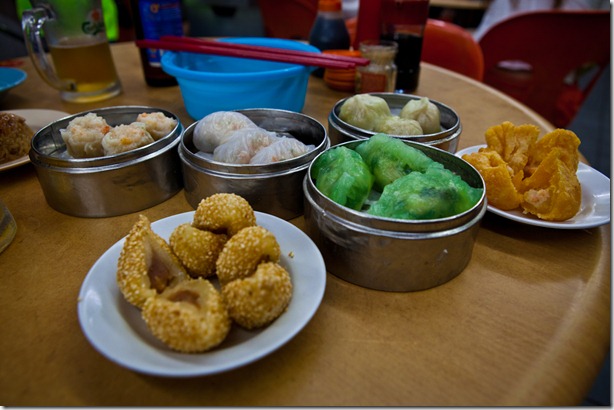 Suck it, Hong Kong!  You may have invented modern Dim Sum, but Malaysia has you beat!  In the back streets of Georgetown on the island of Penang in Malaysia, lies a small, unnassuming restaurant named Tai Tong, which has been pumping out fantastic dim sum for the locals for many years.  It's not classy or gourmet, but it's dim sum as it should be:  hot, fast, mouthwateringly delicious, and pushed on you by spirited, old Chinese grandmas.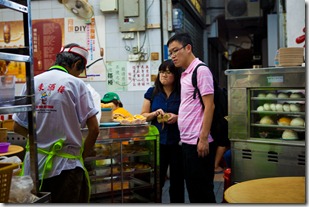 Walking in, you are ushered to an open table, of which there may be very few.  Ok, ushered is a strong word.  Let's call it pointed to.  Sitting down, the staff will give you a menu and try to convince you to buy one of the main dishes they have on offer, but you didn't come here for sweet and sour pork, you came here for dim sum, and dim sum you shall have.  The old women who seem to run the shop (as opposed to the old men who seem to just sit around) wheel around 3 carts full of goodies to choose from.  One cart carries the steamed dishes, full of various dumplings stuffed with pork, shrimp, vegetables and herbs, etc.  The next cart brings the buns, bread, and sticky rice.  The final cart is full of fried treats, including the wonderful sesame balls.  The staff aren't fluent in English, but they know enough to tell you what's in each morsel and will gladly help you pick out the good stuff.
Tai Tong is full of good stuff.  We enjoyed everything that we had there.  The one thing we did end up ordering from the menu, the spring rolls, were also fantastic.  Perfectly cripy and done with some egg and tofu on the inside for a wonderful combination of flavor and texture.  In fact, we loved it so much that we went back 3 times as nothing else seemed to measure up.  This is how it should be done.  This is dim sum heaven.