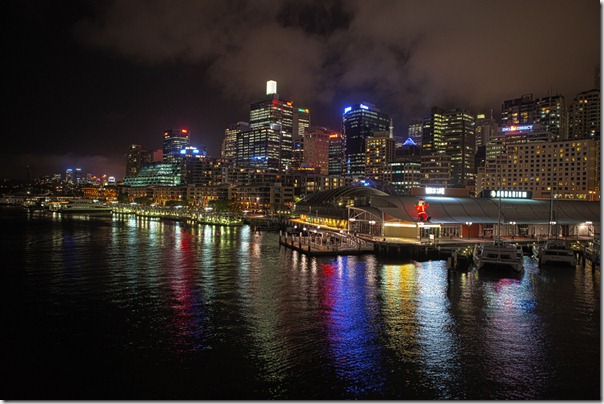 So while I will be trying to give my first impressions for all of the places we visit, having been to Sydney about 15 years ago, I can't quite claim this to be a first impression.  Instead, just think of it as something slightly tempered by youthful, past experience.  Be that as it may, it felt good to be back in the Habour City (notice that's "Harbour" with the extra British, emperial "u" added in).   It makes sense that this is Sydney's nickname as the city is defined, to a great degree, by its famous harbor.  When in and around downtown, you're never far from water, and this is part of the key experience of the city.  From the newly renovated and chic Darling Harbor area, to the Ferry's launching off of Circular Quay, to the old attractions next to the sea at Luna Park, Sydney is intimately connected to water.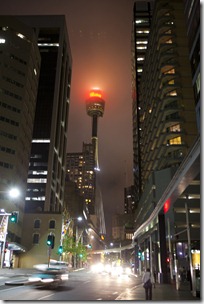 Walking down the streets, Sydney has a very metropolitan feel, with a great mix of trendy bars and clubs, mixed in with traditional pubs, all fitted in between beautiful large buildings that range from modern skyscrapers to victorian themed architecture.  The architecture is clearly indicative of the city's British roots, but the Aussies have clearly made it their own.  There are of course, the two main landmarks: The Sydney Opera House, and the Sydney Harbor Bridge, which seem to be legally required to be shown whenever Sydney is discussed.
I have heard plenty of complaints about the roads in and around the city, but as we were at the whims of public transport on our visit, I cannot comment much on this.  What I can say, is that the public transport is relatively reliable and easy to get a hold of.  Of course, I spent seven years in Japan, the country that absolutely defines reliable public transport, and Sydney does not rise to this paramount, but the bus stops are frequent and well distributed, the trains go to all of the main areas, and the ferries are clean and orderly (not to mention offering wifi!).  There is a great pass, known as MyMulti, which allows you full, unlimited access to bus, train, and ferry alike.  It's a great deal, especially if you get the weekly or monthly pass.
Being back in the city after such a long time was a weird experience, and brought back some great memories.  It really is a gorgeous city, and with a variety of interesting neighborhoods, each with their own feel and flavor, it offers a lot to explore.