I will admit it, I have a secret crush on Katy Perry.  Though I tend to dislike the pop music that's made today because it's usually so formulaic and derivative, there's something that remains interesting and genuine about her music, with each song seeming to have a truly heartfelt meaning to it.  Some are silly, some are serious, some are filled with love, and the variety is most welcome.  Nao also shares this KP love, and so when we found out that she was having a concert in Manila while we were in the Philippines, we bought tickets to Manila, and seats (ok, standing room) at the concert.  Of course, this may sound lavish, but the flight and concert tickets together were about $30 per person – gotta love the Philippines.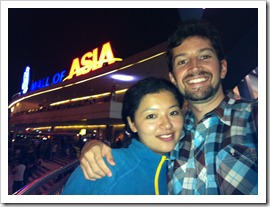 The concert was at the Mall of Asia, a massive shopping center in Manila that is the largest mall in Asia, and the fourth largest in the world.  Not only does it feature a movie theater and a full skating rink, but more importantly, a Cinnabon!  Having topped up on cinnamon, we headed to the concert grounds, which was essentially a large parking lot that was cleared out and had a stage plopped in it.  We headed to the very back section where all the other cheapskates were to wait patiently for the Ms. Perry to begin her show.
Right on time, at 8:00, the opening act, DJ Skeet Skeet, started spinning.  Now, just a digression on naming, but I'm not sure that he really picked the best or most appropriate DJ name.  For those you out there that don't know the reference, let Mr. Urban Dictionaryhelp you out.  Now, once DJ Skeet Skeet sputtered out, we were left waiting….and waiting…and waiting.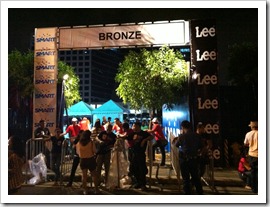 For two and a half hours, we were waiting in the Manila heat while Katy did whatever she needed to do to get ready.  I've been at many concerts, but I've never seen a band be that late without any type of announcement.  What made it liveable is the friendliness of the Philippinos who were standing by us.  As the minutes wore on, we started talking to those around us and sharing in our common anguish.  We joked about what might be happening and held each others' place to go get water.  It may not be something life changing, but one of the pleasures of travelling is being able to make connections, however small, with people all over the world, and realize that for all of our cultural differences, we are more alike than we are different.
When Katy eventually came on, she did put on a stellar show, complete with lasers, video interludes, a mind boggling number of costume changes, and a whip cream cannon (want!).  She even brought up one lucky audience member to receive a kiss from a pop star.  However, what I will most remember is the commeradie of the crowd.  Well, that and the incredibly happy reaction by the lady boy next to us when she sang "You're so Gay".  That was pretty fantastic.