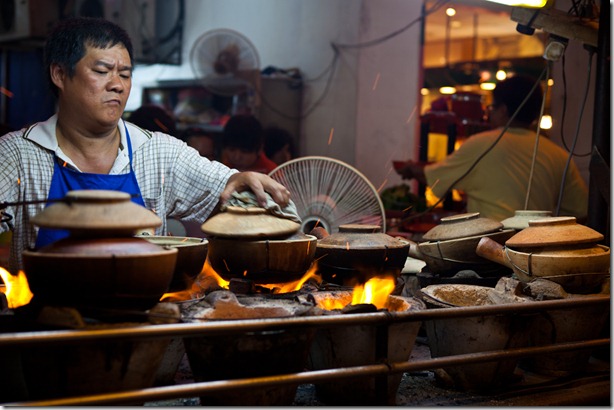 For backpackers traveling through Kuala Lumpur, Chinatown is a popular destination, both for finding cheap deals on (fake) designer goods as well as a wide array of budget accomodation.  However, while exercising your vocal cords while negotiating another 13 cents off your Reybands, don't miss out on all that Chinatown has to offer your stomach.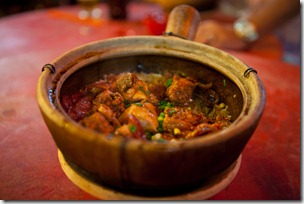 Street stalls line the paths of the main shopping area, offering a wide variety of Chinese treats for all palates.  Ok, you generally have to like Chinese food, but otherwise you should be safe.  One of the more exciting items to watch being prepared is the chicken and rice in a clay pot, fired to delicious hotness over an open blaze heated by hot coals.  Perhaps it's just the pyro in me, but there's something enjoyable about seeing the warm glow of the fire illuminating the cart and knowing that the dish your meal is served in could cause you permanent damage.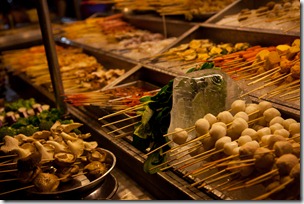 Another popular cart offers you a variety of skewers on which you'll find everything from octopus to braised pork to vegetables familiar and strange.  The items are priced based on the color on the stick, with everything being cheap from a western perspective.  Simply grab up whatever it is that you want and the man in the cart will either cook it up for you so you can go, or you can sit down at one of the nearby tables so you can heat up your own items in a pot of boiling water.  It's a version of traditional hot pot on the go and it's delicious.
Now at this point, some of you might be saying, won't eating at a food stall give me food poisoning, parasites, and gonorrhea?  Well, that may be true in some other southeast Asian countries (cough, cough, Indonesia), but Malaysia has pretty remarkable food safety standards which are valid not only for restaurants, but even cover food stalls.  Additionally, as there is a large Muslim population, stalls need to maintain proper standards to ensure they are serving Halal foods.  This means that you can enjoy what is on display with a little more confidence.  Of course, there is no guarantee, but I was sold when I saw that some of the food stalls looked cleaner than restaurants back home.
So relax and enjoy the spread.  Don't forget to look behind all of the stalls in the night market as there are some fantastic restaurants hiding behind all of the tents.