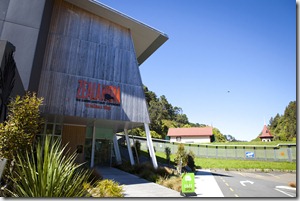 For a change of pace, we decided to go off into the highly recommended Zealandia, which is a wildlife sanctuary located a 15 minute drive away from the city.  They even started a free shuttle service around July 2011, making it easy as pie to get to.
Zealandia has a unique predator-proof fence that they use to create a refuge for the animals free from the predators introduced by foreigners to New Zealand, which would normally hunt them.  This has made them the idea place for endangered species to stage a comeback and they have been very successful so far with helping to bring back species that were previously on the brink of extinction, including the kaka, the saddleback, and others.Zealandia is not a zoo, as these animals are generally free to roam about the sanctuary and can make it their home if they wish, but can also fly out of the area.  However, they have found that many species prefer the safe confines of this little valley.
We joined in on a Walk 'n Talk tour in which one of the main staff of the sanctuary took us along the path, sharing the story of the sanctuary and of the animals within it.  It was a free tour (or at least included with admission), but was really informative and provided much more information and insight than the "Oh, pretty bird" that I would have come up with.  You could tell that our guide really lived what he was talking about and that he had a passion for these animals, which showed both in his speech and in the sanctuary in its whole.  It's very clear that what has made it successful is a group of people that are really dedicated to conservation and preservation of New Zealand's native species, both flora and fauna.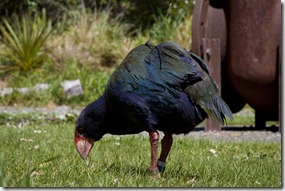 There are feeder stations set up at various spots in sanctuary, where birds come and go naturally.  If you're a bird watcher, you could just sit down next to one of these feeder stations and spend hours watching them come and go.  It really provides a great opportunity to see these animals in a natural environment, rather than encaged in a zoo.  Plus, even aside from the animals, the whole place is well landscaped, with a lake, streams, ponds, and great trails.  It would be nice to walk around even without the wildlife, but the animals is what makes is truly special.
If you find yourself in Wellington and are looking for a great escape, I would highly recommend Zealandia.  It's a fanstastic place to see New Zealand's native wildlife and is staffed by a group of people who really care about what they are doing.  Just go.